Accreditation in three minutes
Accreditation, open systems
Accreditation is an international system of common law in the EU. According to the EU Regulation (EC) 765/2008 each country has a national accreditation body appointed by the government.
In Sweden, it is laboratories, certification and inspection bodies that assess whether products and services comply with regulatory standards requirements. To be able to rely on the assessments done in an independent and competent manner Swedac issues accreditations and supervise them.
Earlier there were state monopolies that performed tests, but today accreditations are performed in an open system. This means that every body with an accreditation may perform the specific tasks they are accredited for. Open systems are today the rule for countries within the EU.
According to agreements between accreditation bodies can testing, calibration, certification and inspection be carried out by an accredited body approved in other countries. That means benefits for manufacturers who do not need help to try and certify products again for exports, and for purchasers who can trust any certificates issued in another country. The collaboration is developing and more and more countries accedes to the agreements.
Accreditation bodies co-operate in cross border assessments. In such cases, the requirements in (EC) 765/2008 and in the EA framework of rules must be followed. The basic is that national accreditation bodies in Europe perform assessments within their own national borders. Swedac has a policy describing how it will act in different situations which may occur.
Why accreditation?
Accreditation is a way to demonstrate quality and competence. It has positive effects for authorities, purchasers, industry, manufacturers and consumers.
Benefits of accreditation:
• Provides greater safety for the customer
• Means increased competitiveness
• Provides "orderliness" of activities and minimises the risk of errors
• May be necessary to be considered for an assignment
• Simplifies global trade
Some accreditation is mandatory, which means that some testing and inspection bodies must be accredited in order to operate their business. On the vehicle side, companies carrying out vehicle inspection and the inspection of tachographs and speed limiters need to be accredited.
With the help of accreditations and harmonised rules among member states, the flow of goods within the EU is simplified significantly. A good example of this is the approval of vehicles. Through a "whole vehicle type approval" each member state must accept a car approved in another EU country without further tests or inspections of its own.
Swedac keeps register of all accredited activities.
Voluntary accreditation
An organisation can voluntarily seek accreditation to demonstrate its competence to perform a task with good quality.
Accreditation sets a level for quality of activities by imposing requirements on quality, expertise and documentation. An accredited operation is reviewed on a regular basis.
Accreditation – step-by-step
Becoming accredited is a long-term commitment. Swedac has a government mandate to issue accreditations and a special charge is levied for this work.
The following describes the accreditation process from the application to decision:
1. Application
Application for accreditation is made on an application form that is sent to Swedac along with other documents requested in the form.
In the application, the customer areas is set, industries or methods that you want to be accredited for.
Swedac confirms that the application has been received and checks that it is complete. Based on the scope of accreditation, Swedac provides information regarding the fee and makes suggestions for an assessment leader, assessment team and a rough plan for the assignment. Swedac´s aim is to send a cost estimate within 4 weeks after complete documentation for the application are received.
The customer accepts the fee and any external assessment leader.
2. Planning
Swedac plans the accreditation assignment in consultation with the customer and engages any experts.
3. Assessment
On-site assessment is performed by a lead assessor, sometimes along with additional internal or external assessors. The assessment includes the client's organisational management, equipment and competence of the management and staff.
For accreditation of laboratories and certain inspection bodies, the assessment is completed with proficiency testing and calibrations.
In some forms of accreditation, Swedac participates as an observer while the accredited body work with its customers.
Swedac´s aim is to carry out on-site assessment within 12 weeks after the customer has accepted the fee and complete documentation is available.
4. Reporting
The assessment concludes with Swedac's representatives describing how Swedac looks at the activity and describes any deviations from the requirements. The assessment is documented in a report.
5. Corrective action
Any deviations from the requirements should be remedied by the customer within 4 months. Swedac takes a position as to whether the measures can be accepted. In the event of serious or extensive shortcomings, a return visit may be necessary. When all the deviations have been corrected, the assessment leader recommends accreditation.
6. Decision
According to 8 § in Swedac´s Regulations and General Guidelines (STAFS 2020:1) on Accreditation, decisions on accreditation shall be notified within two months of the submission of necessary documentation to Swedac. It also mentions what is meant by necessary documentation. The processing time can be extended by up to one month on no more than one occasion, if necessary due to investigation of the accreditation case.
The decision on accreditation is taken by a competent head of department. Accreditation is not limited in time but applies continuously, provided that the requirements are met.
The decision is sent to the organisation together with an accreditation certificate.
7. Surveillance and reassessment
About six months after accreditation was granted an additional inspection visit takes place to check that the accredited activities have started according to plan.
An accreditation decision is always followed up by regular visits, initially once a year. The aim is to determine whether the activity continues to meet the requirements. The cost for surveillance is charged in the form of an annual fee.
A comprehensive evaluation is made every four years, called a reassessment. After the first reassessment, the surveillance range is extended for most areas of accreditation to 16 months, providing that everything is working fine.
At surveillance/reassessment, any deviations from the requirements shall be resolved by the customer within two months.
8. Changing an accreditation
An organisation that is accredited for one area can seek accreditation for a further one or more areas by applying for so-called extended accreditation.
9. To end an accreditation
If serious deficiencies have been found during a surveillance visit and the steps are not taken to correct the situation, Swedac can withdraw the accreditation or limit its scope. Such a decision can be appealed to the Administrative Court in Jönköping.
If an accredited organisation wants to have its accreditation withdrawn, a written request shall be sent to Swedac, which then withdraws the accreditation.
What does the accreditation symbol mean?
The Swedac accreditation symbol stands for quality and safety.
Only organisations that are accredited (sometimes referred to as "body") by Swedac may use the accreditation symbol. The symbol means that the activity has been assessed and approved in accordance with a certain standard. Each accreditation symbol is unique and contains the name of the standard that the accreditation covers and the accredited body's accreditation number.
A body can be accredited for one or more types of inspection, a certification for certain standards and a laboratory for a number of specific practices. It is therefore important to check what is approved. What is included in the scope of accreditation is shown by Swedac's accreditation records. Information about the standards that are current is available here on the site.
Exactly what rules apply for the accreditation symbol to be used are in the regulation STAFS 2020:1.
When an activity receives an accreditation, the accreditation symbol is sent for use in the reports, certificates, and website. Only one representative from the accredited activities can order a new original from Swedac.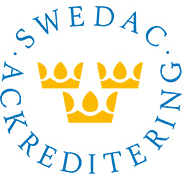 Above is an example of how the accreditation symbol may appear, with the accredited body's accreditation number of the relevant standard. The accreditation symbol may also be black and white, depending on the context in which it is used.
In other countries, there are accreditation bodies equivalent to Swedac. Swedac recognises their accreditation symbols if they comply with the international agreements in force in the area.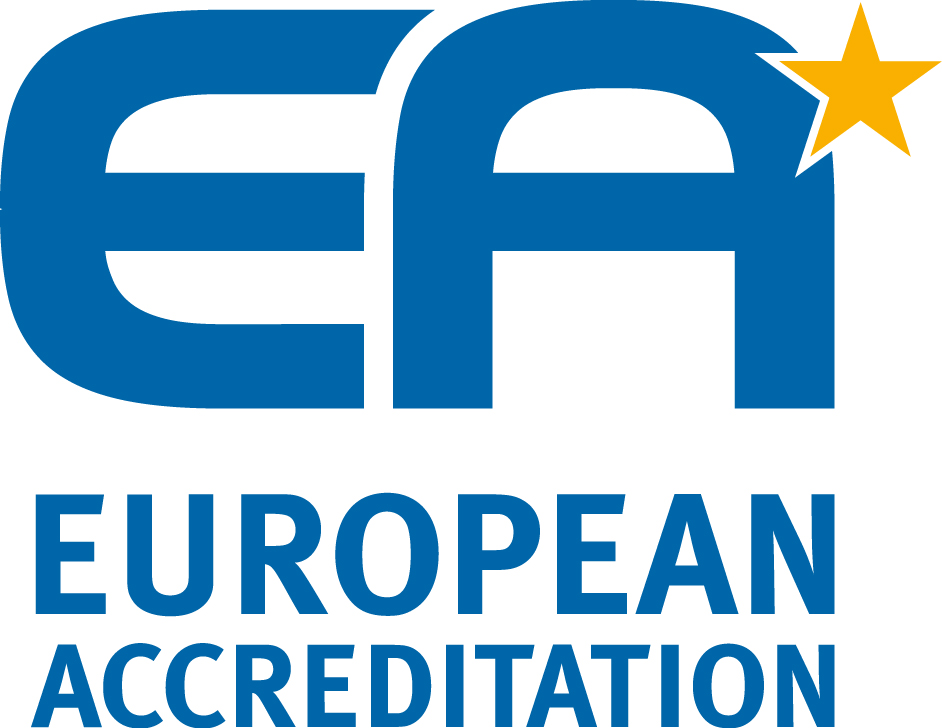 International agreements on accreditation
Accreditation is a global system based on international standards. According to an agreement between accreditation bodies, their testing, calibration, certification and inspection can be approved in other countries. The cooperation is constantly developing and more and more countries are becoming party to the agreements.
The agreement within the European accreditation organisation European co-operation for Accreditation, abbreviated EA, is EA MLA, Multilateral Agreement, and it is signed between the European countries' accreditation bodies.
Swedac has signed this agreement and all the accreditation bodies that are included in these agreements conform to the standard ISO/IEC 17011, which means they conduct audits of each other's work.
The agreement covers the following:
Testing – ISO/IEC 17025 (laboratories)
Testing – ISO 15189 (medical laboratories)
Calibration – ISO/IEC 17025
Inspection – ISO/IEC 17020
Certification of management system – ISO/IEC 17021-1
Certification of products – ISO/IEC 17065
Certification of personnel – ISO/IEC 17024
Verification – ISO 14065
Proficiency testing of laboratories – ISO/IEC 17043
Current information on which countries and areas are covered by the agreement is available on EA's website.
Other regions of the world have contracts equivalent to the EA MLA. The regional agreements form the basis of two international agreements on accreditation.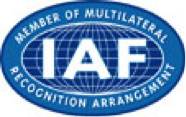 International Accreditation Forum, abbreviated IAF, is the international organisation for accreditation of certification bodies. The agreement includes the IAF MLA accreditation bodies carrying out accreditation of certification bodies.
The agreement covers the following:
Accreditation of certification bodies management systems
Certification of management systems

ISO/IEC 17021-1
ISO 9001
ISO/IEC 14001
ISO 22000
FSSC 22000 scheme part 2
ISO 27001
ISO 13485
ISO 50001
Accreditation of certification bodies for for products
Certification of products

ISO/IEC 17065
Accreditation of certification bodies for persons
Certification of persons
ISO/IEC 17024
Accreditation of validators and verifiers
Verification of greenhouse gases
ISO 14065

International Accreditation Cooperation, abbreviated ILAC, is the international organisation for accreditation of laboratories and inspection bodies.
ILAC Agreement (ILAC MRA) (Mutual Recognition Arrangement) includes accreditation bodies for these areas. For signatories and scope, see ILAC website.
The agreement covers the following:
Accreditation of laboratories
Testing, calibration
Medical analysis
ISO/IEC 17025
ISO 15189
Accreditation of inspection bodies
Inspection
ISO/IEC 17020

Proficiency testing providers
Proficiency testing
ISO/IEC 17043
The difference between accreditation and certification
Accreditation
Accreditation is a formal recognition that an organisation is competent to perform specified tasks in testing, inspection and certification. It also means that Swedac as a competent authority performs regular independent reviews, so that skills and working practices comply with established requirements according to international standards or official regulations.
Certification
Certification means that an organisation, product or person is deemed to meet all requirements of standards or other normative documents. Upon certification, it is a so-called certification body that assesses whether the requirements are met. When it concerns accreditation, it is Swedac that has the equivalent role.
Certification under accreditation – or not?
Certification can be performed under accreditation. This means that it is an accredited certification body that has been approved by Swedac performing the certification.
But certification can also be carried out by a certification body that is not accredited and under certification schemes that do not have requirements for accreditation. In such operations, Swedac is not involved.
Mandatory – or not?
Certification under accreditation is mandatory in some areas. For example, staff working with stationary refrigeration units must be certified. The same applies to survey technicians working with vehicle inspection. Having a certified management system for quality or the environment is not a legal requirement however, but may be a requirement from customers.
Standards
Accreditation and certification are very much about following specific standards. Here is a summary of the standards that are applied in Swedac's activities.
For accreditation bodies:
SS-EN ISO/IEC 17011
Swedac and other accreditation bodies follow this standard.
Accreditation
SWEDAC accredits bodies in areas where the following standards must be met:
Laboratories
SS-EN ISO/IEC 17025
SS-EN ISO/IEC 15189 (some laboratories in health care)
Certification bodies
SS-EN ISO/IEC 17021-1 (management systems)
SS-EN ISO/IEC 17024 (persons)
SS-EN ISO/IEC 17065 (products)
EMAS
Inspection bodies
SS-EN ISO/IEC 17020
Bodies for validation and verification
SS-EN ISO/IEC 17029
SS-EN ISO 14065 (greenhouse gases)
Organisers of the programmes for proficiency testing
SS-EN ISO/IEC 17043
Producers of reference materials
SS-EN ISO/IEC 17034
Certification
Swedac accredits certification bodies that certify according to the following standards:
Management systems, example
SS-EN ISO 9001 (quality management systems)
SS-EN ISO 14001 (environmental management systems)
ISO 50001 (energy management systems)
ISO 27001 (information security management systems
SIS-ISO 45001 (work environment management systems)
SS-EN ISO 13485  (medical devices management systems)
Products and processes
This area contains a diversity of requirements documents.
Persons
The area contains a diversity of requirements documents.
Flexible accreditation
Swedac offers flexible accreditation, which means that those authorised to use the flexible accreditation are entitled to upgrade, for example, add and modify the scope of their accreditation, without prior notice to Swedac.
Flexible accreditation requires that the body follows its routine for the introduction of new methods. Swedac retrospectively examines and evaluates the methodological changes made within the framework of flexibility.
This means that the scope presented on the Swedac website does not always correspond with the scope that the accredited body itself presents. The body should always have an updated list of the methods that are current, and it must be presented whenever Swedac or any customer so requests.
Flexibility can be given in different degrees, as evidenced by the accreditation scope.
For more information, see Swedac DOC 03: 9.
EU legislation on accreditation
Accreditation and market surveillance got a stronger and more formal position than before with the EU Regulation 765/2008, which, together with two other acts are called Goods package. The legislation also means that accreditation bodies have a clearer role than before in the further development of the EU internal market.
According to the Regulation, the member states should primarily use open accreditation to prove competence of bodies to be designated under Community harmonization legislation. When accreditation is used, the provisions of the Regulation on accreditation, both in areas where accreditation is a requirement and in areas where accreditation is voluntary.
Since the provisions contained in the EU Regulation is directly applicable, which means that the rules apply immediately to all.
According to EU Regulation 765, it should only be one accreditation body in each member state and the regulation stipulates requirements for accreditation bodies independent. Accreditation bodies in different member states must not compete with each other for assignments, but may have a cross-border cooperation. The accreditation bodies must be members of the European Co-operation for Accreditation, EA, and regularly undergo peer evaluations by teams composed of other members of the EA.